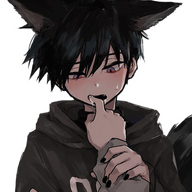 cardboard_house
he/him | slowly rotting away inside
I know that hotlines don't exactly have a good rep because they, well, don't work. I didn't phone a hotline, but I did phone a help line and I had a really good conversation. I had made a vow to myself, and I needed to speak it in words to another person, but everyone I know is asleep so I figured I would just phone the mental health line.

The guy that picked up was brilliant. It felt like talking to an old friend, even though we didn't even know each other's names. He really helped me calm down, and even offered to talk about cherishes memories of my late cat with him. I ended up on the phone with him for a full 20 minutes, talking about experiences with my late cat and sharing more about her.

He made me feel valued and understood in a way that I can't put into words. This isn't the first time I've called a hotline, and I have had a range of experiences, but the conversation I had with this guy felt so genuine. I never thought I would remember a self help line convo for being amazing, but life is full of interesting experiences.

I calmed down so much, and be the end of it, I felt so much better. When the call started, I was sobbing and shaking and rocking back and forth, and by the end of it my voice was even and I was hardly shaking. This is just a reminder to you guys that hotlines n help lines aren't always awful, so there's no reason not to try it if you want to.