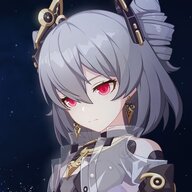 リンさん
I don't feel pain when I'm with you • she/her
It's okay! I'm not ctb because of pain or the ugly parts of life, it's just something I believe it has to be done, it's all about my creed, an existential factor.

But thank you so much for your empathy and caring words! 🤍
Sorry to pry into the convo, but I'm happy to see someone who also desires to ctb due to their beliefs and outlook on life and death. Even if we might have different views and understanding of it (which is totally fine). It's admirable that you follow your heart on such serious matters.
To me, death is just as captivating and beautiful as life itself. It's not the end, but the beginning. There's no need to fear it or criticize it. I'm looking forward to my own departure, once I'm done with everything I need to do in this life.
My heart aches for those who resort to suicide out of pain and hopelessness. I wish our world was kinder. I sympathize heavily with those who suffer, and know how it feels to suffer myself. I just wish it could be better for all of us on here.
Thank you for staying here and sharing your thoughts and experiences with all of us.