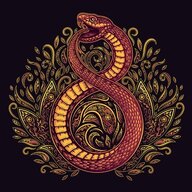 Enemargarita187
Edgy, anti-life, self-proclaimed philosopher
I keep thinking that nothing is real. This thought comforts me the most. It feels safe to know that I'm so temporary and insignificant. Many of you have helped me find a place to share stories, be accepted, listen to each other, learn, support, make each other's day a bit less intolerable, and I'm so thankful for that.

I also feel sad about all the suffering conscious beings have to go through. But I keep remembering that peace is waiting on the other side. That's all I'm doing today, coping with existence. The clock keeps ticking, that's just the way things go. One day I'll be unaware, no matter how much hardship I'll have gone through.

The end result will be total satisfaction, one I've never even imagined. Without me or anything at all. It's inevitable. Now let the restless waters flow, let it all play out. So be it, I surrender.