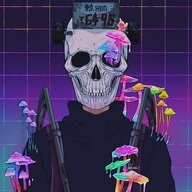 Serial Experi Pain
Member
Someone sprung it on me that they "love me", tonight... I often tell them how I feel about not wanting to be alive/exist. It was very sudden and now I feel very guilty. I kind of already thought they did to an extent, but not love. I told him from the start I did not/was not seeking a relationship... I've been abused a lot, and I had/have no idea if I really want to stick around and exist.

We have never met, but have spoken all day every day since last March. I don't feel any better after he has told me this in a voice message. He said he wanted to say it in case something did happen. He's genuinely a fantastic person, but he could do a lot better, and I think I've explained that to him at least 50 times.
Who would want someone who can't be happy and is miserable all of the time? I think I'm physically gross for a million reasons. Now I don't know if I could even meet him, because it feels like that much more pressure to be perfect, something I am not and never will be. I push people away regularly and have already nearly done it to this person a few times.
I really don't think I would be a positive in someones life for very long as far as relationships go. I feel like they would get tired of me. I really thought he was going to tell me that he was sorry, but I was unhealthy for his mental state and he would no longer be able to talk to me, tbh.
He spoils me. I have never in my life been treated kindly, but he sends me lavish, thoughtful, and wonderful gifts. I have told him it isn't required, his friendship and ear are far more than enough, and have even reimbursed him some because I do not feel even remotely close to worthy of anything he sends me. Before him, I never let anyone send me anything, but he had made a very special gift by hand that really meant a lot to me, so I gave him my address and he has sent me things I am not worthy of having since.

I've never even had a boyfriend treat me this well in my lifetime.
I feel like there's some catch. I feel like he must have some idea of me that is far beyond anything that I actually am or could be. It hurts.