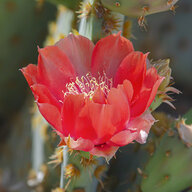 cactusflower
here but not here
It's weird. I opened up for the first time that my suicidality is more serious than I made it out to be in the past. I talked about past attempts, self harm, etc. Was not judged harshly like I expected, and nothing happened after with reporting. She reassured me that actually that was something she would not do.

I guess I am still skeptical. This is my first experience with therapy in general and there's still so much I've not discussed. I e been doing it for a few months now, weekly, and I've always felt we only grazed the very surface level of my feelings. This last session is kind of cracked open the shell a bit, and I'm hoping it will lead to a better understanding down the line.

Ultimately, I'm not sure what the near future holds for me. I'm in a weird place in my life where the future seems so murky I'm unsure if I want to even try to form it to my liking at all, when suicide has always been a more preferable option for me. I don't know why, but there is something deep within me telling me to go on.

I know if my dad were here, suicide would be the last thing he'd want on my mind. He struggled with his own dark thoughts, it's not what ultimately lead to his death, but it was something I actually didn't know he struggled so much with until after his passing. It breaks my heart at the possibility that maybe sometimes when I was with him, he had these thoughts that I'm having actively right now. I will forever love and cherish my time with him, and I guess this is the part of me that wants to keep going.

Ultimately I don't know at the end what I'll decide. Everything is just so uncertain. I feel like everything is really up to me now. I think I just need to reevaluate where I am in life and where I want to go. I guess it'll take time. I just hope on the meantime my thoughts don't become darker and darker and darker.