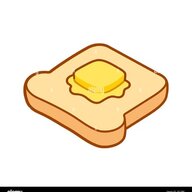 ButterToast
Liar who can't separate lies from reality
A little venting.

There is absolutely nothing wrong with my life. Except for myself.

What's the typical suicidal thought story? Horrible childhood? Abusive partners? Bullied at school? Mine is less dramatic.

I grew up in an amazing family, had great friends, all my needs (even wants) are fulfilled. These are the textbook 'ideal' conditions. yes, i learn a lot about psychology. i know what's up.

But I wish I never exist, exactly because I had been given all of those things, yet, im still a fucking loser. I wish someone else can have my current life and they won't be such a failure. I feel bad for those around me, the math doesn't work out. Someone with background like me should grow up to be an amazing person with a good number of achievement. But, guess what? I have none. I tried looking, for anything that might be a positive thing in my life. none.. nothing at all...

I'm not a good person, not a good friend, not a good student, not a good worker, not a good family member, not a good acquaintance, not a good... anything....
Why me? I'm grateful for all the things in my life, but man, I'm a failure. This is pure guilt. I didn't come from a background of child abuse or bullying or what not. I wasn't born with any defect, intelligence is okay (IQ 120+), there is no reason for me not to succeed. But here I am... Failure at everything.

The only reason why I want to die is not because the burden of this world is too heavy, none of the normal people's reason. It's my (impressive) amount of incompetence. Fuck me. I want to end it quickly, but I also don't want those around me, who care about me to be sad. Even they know I'm a useless piece of shit, they still care. Sometimes, I wish they could forget me or become evil, so I can kill myself in peace, and it will be a net positive for them in the long term.

The only 'wrong' thing in my life is myself. The people around me are too good, they do not deserve to have a filth like me in their life. The environment around me is too kind, I shouldn't make it filthy with my existence.

Even when I try I can't. I'm like a an axe made of leaves. Requires a lot of care and love to build, but ultimately useless. Even if I'm pretty to look at for a bit, really, I'm just waiting to wither and become ugly.

I probably grew up a softie. Which might explain it, but it doesn't change my failure. And my never-ending desire to stop existing. And no, my expectation isn't 'too big', I literally fail at the slightest things. And you know what? usually because of very dumb reasons. Look at my most recent failure lol. I will probably lose my university scholarship because I didn't read the fucking rubric (for uni students, please read your rubric, don't me like me), I explained the topic sooo well, but I forgot to define the term.. that's it. a 1-2 sentence definition. I could've scored easy 90+. but nope. i gotta be an idiot. fuck me. and this is something i know for a looong time. i've always been like this. I know what to do and what i should do, but never did. I tried changing, but somehow, i can't. lmaoo
THE APRIL FOOL THAT NEVER FUCKING ENDS, well, at least not until i die. I wish I die soon enough, not because i hate life or it's horrible, but so those around me can stop being burdened, hindered, and disappointed in me. Mom, dad, my siblings, my best friends, my childhood friends, I'm sorry. You guys deserve better, much better. so. much better..

I wish that truck that hit me in kindergarten had killed me. An accident is my ideal death. Everyone will be sad, but they understand. The scar will be there, but it will heal.

I'm tired. of myself. I'm tired, being a burden to others. I just want to die. And I have just one more selfish wish. For the world, to kill me, in a way that doesn't leave too deep of a scar.