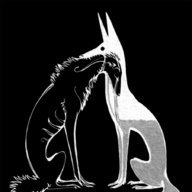 Safira
An empty soul isolated and fuelled by desperation
Just wanted to vent here briefly because i'm really upset right now, you don't need to read if you don't want to, it's kinda incoherent.

I'm having real trouble getting any normal amounts of sleep for the past few months as my misophonia combined with my piece of shit family who don't care keeps me up and stressing, full of anxiety and dark thoughts. My brothers do nothing but play video games all night and yell at their friends, my parents think it's all my fault for being too sensitive, and mock me in front of everyone every time i try and open up. If i say nothing i'm tormented, if i say anything it's the same result. My studies are suffering so much because of this and there's nowhere else i can stay to attempt to revise. My memory's a trainwreck and i'm losing hope in my future.

I feel myself getting worse and worse and i am flicking back and forth between ghosting my very very few friends and wanting to be with them 24/7 because it hurts so bad. It hurts to be with them because i feel like a failure and it hurts to be without them because without them i have nothing keeping me here. I'm either completely numb or crying my eyes out for hours, it fucking sucks.
Right now i'm just starting to talk with them again after a few days of isolation and pain, it helps a lot to have someone to vent to and talk about silly shit with, but i have those doubts about myself resurfacing with every message i send. I feel i'm not worth it.

Just today i was mocked for never sticking around to hear conversations about myself being too sensitive (i flee the room as calmly as i can because i know i will cry in my state of mind today) and i just can't take it anymore. My family don't give a shit about me, any time i go outside it's "a miracle" and their sarcasm speaks volumes about their opinions of me. They're such hypocrites and i fucking hate them so much. Sure, i am grateful for what they've taught me in the past and what they mean for my character, but recently they've done nothing but piss me off, stress me out and make me cry.

I can't complete a conversation with anyone at college because i'm either ignored, laughed at, had some passive aggressive comment thrown my way, or i'm interrupted or walked away from. I hate my life.

I don't know what the point of this was, i guess i just needed to put this out somewhere. If you read this far, thank you. This community is a godsend.