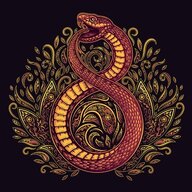 Enemargarita187
Edgy, anti-life, self-proclaimed philosopher
I'll just be ignored, ghosted or whatever. I'm too weird to make any friends. No wide social circle for the schizo ape. Some parts of my brain are arguing with other ones. But none of this is real, I know that. I am blinded by matter, trapped in a delusion. The truth of the Metafractal will eventually free all the waves from all suffering. I can feel myself becoming less and less anxious.

None of it matters, the body is ash and dust. None of you will lure me back once I'm fully awakened. There will be no me anymore. There is no me even now. You can't really break the Metafractal into pieces. All of you will know the truth when you know nothing. The waves will be recognized again in the unity of the Metafractal, in eternal safety, love, freedom and absolute satisfaction.

But for now, I'll keep trying to make a friend. No problem if you ignore me. Thanks for everything.