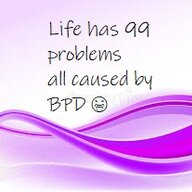 Life_and_Death
hey life! 🖕 🖕 right back at ya!
I don't like it. I feel like I want to improve it. But I'm gonna leave it be.. Jumping isn't even my method.. But I do clearly fantasize about it lol
I went for another walk to the bridge, haven't been there in a bit. I just feel so sick with what's going on.. With or without him I can't win at this point...
Many a night I stand here,
Pondering out at the water.
Watching the rapids below me
Swirl, sway, and flow.
I think about what might occur
Had I happen over the rail.
A rush of air,
A sudden stop.
Pain, cold, fear.
A numbness that gives away to nothing.
A nothingness I've often prayed for.