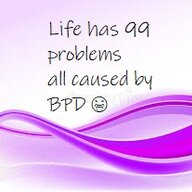 Life_and_Death
hey life! 🖕 🖕 right back at ya!
My psychiatrist recently moved into a new building. He went from a building with a little bit of anything to a building thats just him, with "psychiatry" written by the door. Like dude...i dont need people knowing im insane. Walking in here, never looks good. On top of that, anxiety is top 3, meaning most the people you deal with are going to have anxiety, is this really a good idea?

And to top it off the building looks like a house.

I feel uncomfortable walking into "someones house"
I feel uncomfortable with everyone knowing what im doing
I feel uncomfortable that its completely unknown and i have no idea what it looks like beyond the door

This move sounds like a good way to ensure people dont get help only ensuring the suicide rate goes higher. And youre suppose to be helping?? because ive been fighting to not cancel my appointment.